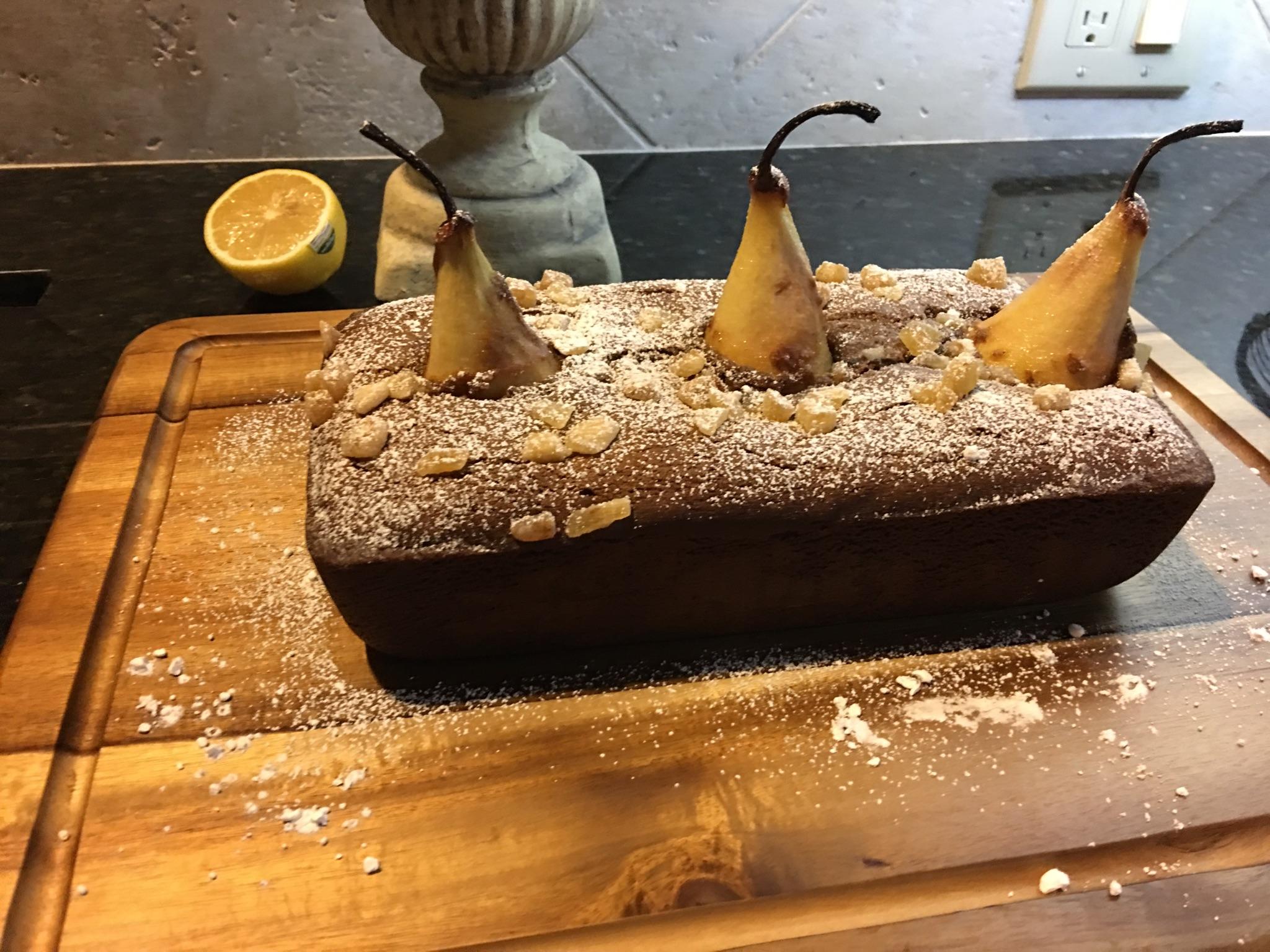 Makes 2 (8 ½ " x 4 1/2 ")
With their elegant tapering necks and firm texture, whole Bosc pears baked into this rustic loaf elevate its look and taste.
POACHED PEARS
5 (12 oz) bottles ginger beer*
2/3 cup granulated sugar
2 cinnamon sticks
8 cardamom pods
6 firm Bosc pears, peeled
In large Dutch oven, combine ginger beer, granulated sugar, cinnamon, and cardamom. Bring to a boil over medium-high heat. Reduce heat to medium, and simmer until reduced by half, about 1 hour and10 minutes. Remove from heat, and let stand for 15 minutes. In a large bowl, place pears. Pour syrup over pears. Refrigerate for at least 12 hours.
CAKE
¾ cup unsalted butter, softened
1 ½ cups firmly packed light brown sugar
2 large eggs
½ cup unsulphured molasses
1 teaspoon vanilla extract
2 ½ cups all-purpose flour
2 ½ teaspoons ground ginger
1 teaspoon baking powder
1 teaspoon ground cinnamon
½ teaspoon kosher salt
½ teaspoon ground nutmeg
¼ teaspoon ground cloves
½ teaspoon ground allspice
½ cup whole milk
½ cup sour cream
3 tbsp ginger sugar
1. Preheat oven to 325 degrees. Spray 2 (8 ½" x 4 ½") loaf pans with baking spray with flour
2. In the bowl of a stand mixer fitted with the paddle attachment, beat butter and brown sugar at medium speed until fluffy, 2 to 3 minutes, stopping to scrape sides of bowl. Add eggs, one at a time, beating well after each addition. Stir in molasses and vanilla.
3. In a medium bowl, whisk together flour, ginger, baking powder, cinnamon, salt, nutmeg, cloves and allspice. Gradually add flour mixture to butter mixture alternately with milk, beginning and ending with flour mixture, beating just until combined after each addition. Stir in sour cream. Spread batter evenly into prepared pans.
4. Strain pear mixture, discarding excess fluid. Place 3 pears, stems up, in each prepared pan. (Gently place pears ¼ " into batter so pears do not sink to bottom.) Sprinkle with ginger sugar.
5. Bake for 10 minutes. Gently pull pears by stems to ensure they remain upright during remainder of baking time. Continue baking until a wooden pick inserted into center comes out clean, about 1 hour and 15 minutes, loosely covering with foil to prevent excess browning, if necessary. Let cool in pans for 15 minutes. Remove from pans, and let cool completely on wire racks.